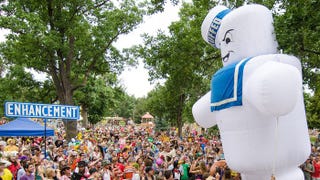 Clubs! You've probably seen them in action, congealing singular humans into unilateral unicycle teams and extreme crochet leagues. For better, worse, or a middling amount of loyalty rewards, there are those who love joining them, and those who love gawking at them. Here are three hard-to-miss crews that are staples in their communities — they might live on your very own street! (If so, head to the comments and spill.)
Krampus Fans (Los Angeles, CA/Worldwide)
Meet Krampus, a European Christmas devil who does St. Nicholas' dirty work by traumatizing misbehaving children (lest they become coal recipients). Los Angeles is home to the largest group of his followers in the U.S. — they spend the year constructing and debating the accuracy of demonic costumes until The Most Wonderful Time of the Year arrives and it's finally time to party ("haunt") with their nightmarish pals. DJ KRAMPWERK made short work of that at last year's Krampus Ball, but the annual walking (in L.A.!) spectacle of Krampuslauf is the real treat for gawking non-believers.
Beard Team USA (Portland, OR/Worldwide)
Maybe you've noticed that certain people's penchant for costuming — particularly in the head-region — is sort of a full-time thing (and that they also happened to have lucked out with facial protein genes). Those are the men (you have to be a man) involved in Beard Team USA. Mustaches are also acceptable, however — basically, if you've got facial hair that can be daintily dusted with frothy beer foam at a local meet-up, you're in. The Beardos have over 100 local chapters, but as you might imagine, their epicenter appears to be in Portland, Oregon, where the World Championships will take place this October.
The Chopaderos (Carlsbad, CA/Worldwide)
The Chopaderos are a gang of bicycle "outlaws" into denim (particularly in vest form), patches of drunken skulls, and tattoos that say "Chopaderos." They gather in over a dozen countries worldwide to talk shop, tool around on modified bikes, and drink beers. They also take really great pint glass selfies. If this is as intriguing to you as it is to me, consider entering to win a chance to bike alongside the Chopaderos at this fall's Tour de Fat in San Diego. If you're interested in full membership though, you'll have to prove that you are not an asshole and you can behave when you are in a crowd of 50 people all wearing the same patch." Informal rules include making "every beer their slave."
So, what group of ragtag human-folk have you witnessed around your town, prompting you to wonder "What the hell?" or "Huh?" Who are the Christmas demon-loving, facial hair-conditioning, extravagantly bike-altering clubbers in your corner of the world? Head to the comments and let me know.
New Belgium Brewing will send two would-be Chopaderos to ride with the gang through the Tour de Fat bike parade in San Diego. Head here to learn more about Fat Tire, and follow New Belgium Brewing on Kinja for updates on how to win.
Zinzi Edmundson is a Los Angeles-based insufferable multi-hyphenate. She has written for Bon Appétit, Refinery29, Dwell, and others. In 2013, Edmundson was quoted as saying, "Writing about yourself in the third person is incredibly awkward and also sort of humiliating."
Photo courtesy of New Belgium Brewing.
This post is a sponsored collaboration between New Belgium Brewing and Studio@Gawker.